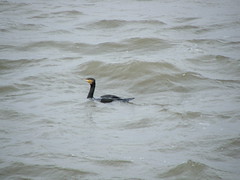 Dickybird
Originally uploaded by GreekVicar.

Jane and I were walking along the promenade yesterday when I spotted this chap in the river. We watched him while he dove beneath the waves and reappeared with a fish. I've no idea what type of bird it is but I've no recollection of ever having seen one in the Mersey before.
It's a badly focused image - but what the hell, it was grabbed rather than taken.